'Glitter is cancelled' and other observations on the messy business of blended family fun24285db461dcc020c090ae6b34a3da36
Enter our giveaway to win a prize pack of Mrs. Meyer's Clean Day products that are gentle on your home but hard on mess
"OH MY GOD," my 15-year-old son shouted from the bathroom.
"What wrong?" I called out from bed, where I'd retreated with a book, exhausted from the weekend's events.
"How do I have glitter in my hair? I didn't even touch the glitter. No more glitter."
"Yes, I hear you. Glitter is cancelled."
We'd been joined on the weekend by my boyfriend and his two kids, ages 10 and 8, for a Saturday night sleepover and some baking and crafting fun. Although we've spent loads of time together, it was the first time Ryan's son and daughter would be staying overnight, joining my two boys, ages 15 and 11.
This inaugural family sleepover was timed to coincide with a grown-up outing to see our friend's band on a recent Saturday night. My eldest, Cameron, would be babysitting the three younger kids. To make things fun for them, we'd bookend this adult outing with cookie baking and crafting, and as well as pizza, chips and a movie.
The idea was to bake enough cookies to share with friends and family, then package them up in festive takeout-style boxes and personalize them with handmade cards.
This was supposed to be an attractive lifestyle blog post featuring a stylish way to present homemade treats, lovingly made by a blended family during a quality time activity.
Things didn't go quite as planned.
But we did end up with plenty of reason to test drive the Mrs. Meyer's Clean Day cleaning products that (spoiler alert!) we're giving away at the end of this blog post.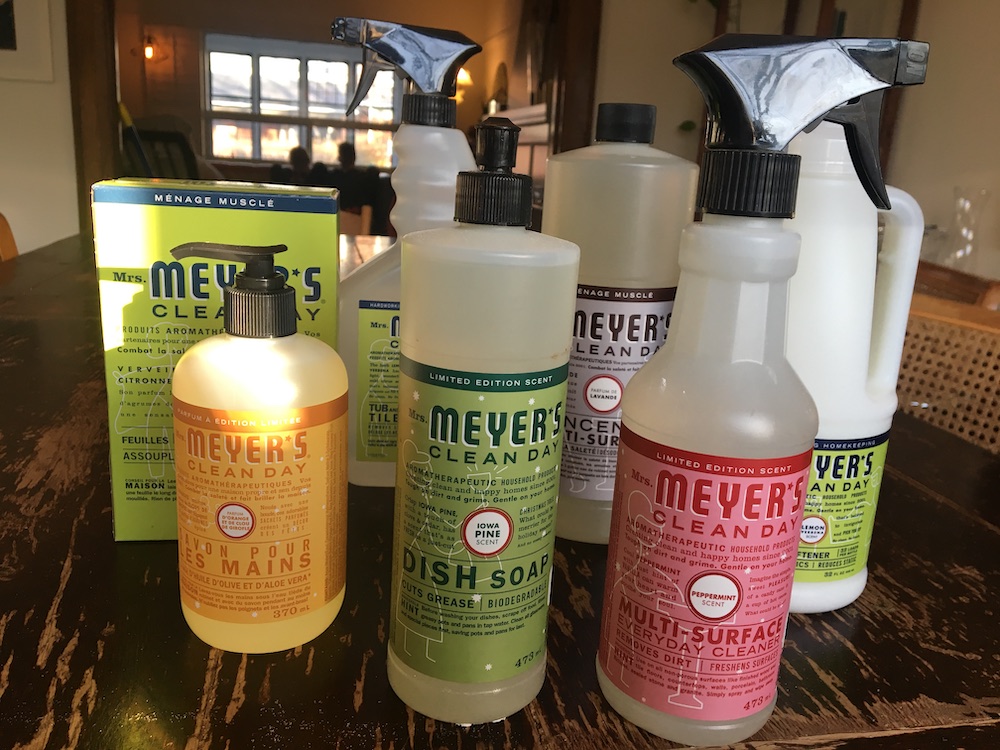 Our cookie adventures started before our guests arrived when I remembered that the dough for our chocolate crinkle cookies needed to chill in the fridge for four hours. I knew our crowd wouldn't want to wait that long for the gratification of freshly baked cookies, so I hastily made the batter after running to the bulk store to replenish some baking supplies. With my teen begrudgingly reading out loud the directions from allrecipes.com, I threw the ingredients together just in time to take his younger brother to basketball.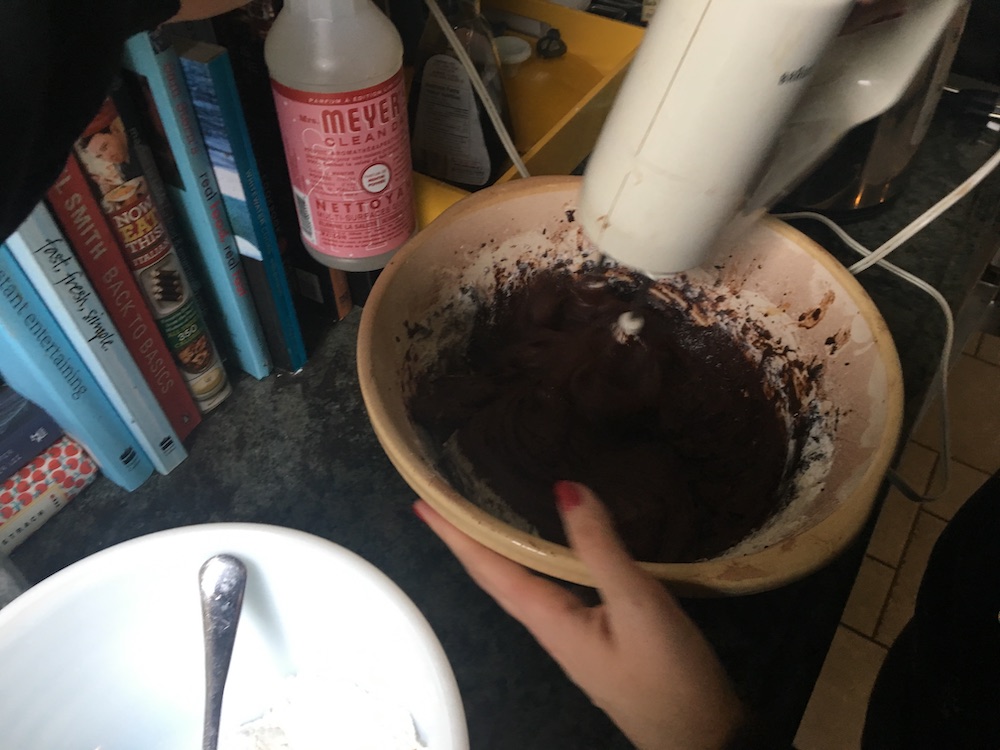 That left only the fun (and supremely messy) parts of making this recipe: rolling the dark chocolate batter into little balls and then coating them with icing sugar.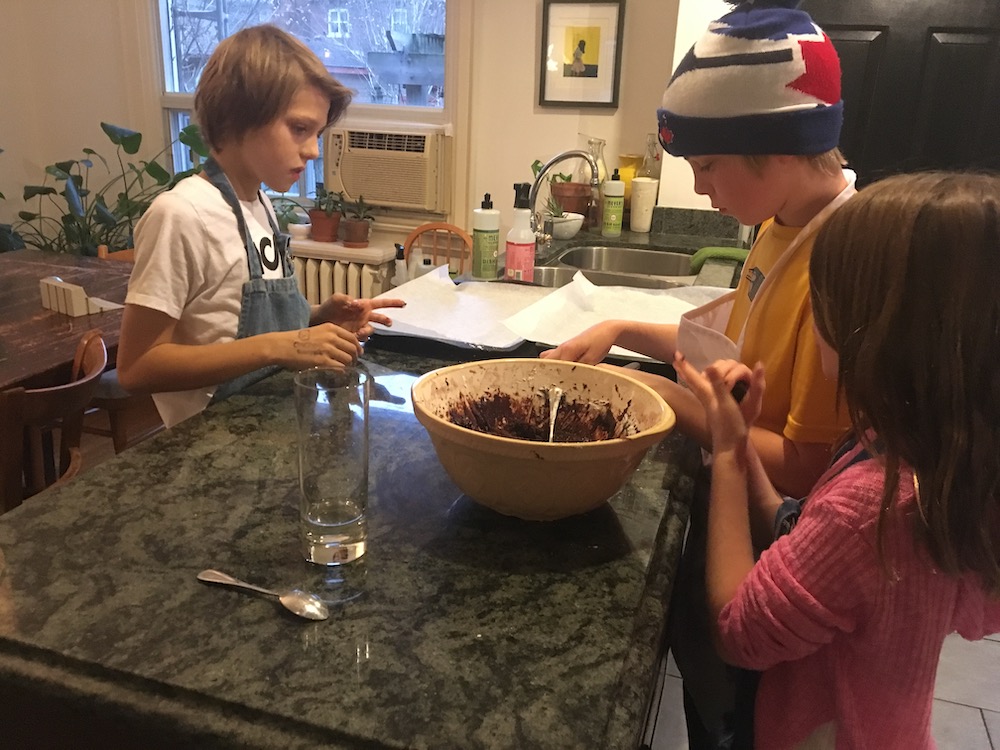 Once Alister and I were back from basketball in time to meet up with Ryan's crew, we had three out of four kiddos in the house and ready to roll. I got them set up on the counter with the chocolate crinkle dough, a shallow bowl of icing sugar and two parchment-lined baking sheets.
Hands were quickly covered in chocolate-y batter, prompting many trips to the sink to wash up. Among the products we were sent by Mrs. Meyer's Clean Day was their hand soap made with olive oil and aloe vera in the Orange Clove scent, which was in use all afternoon and smelled lovely.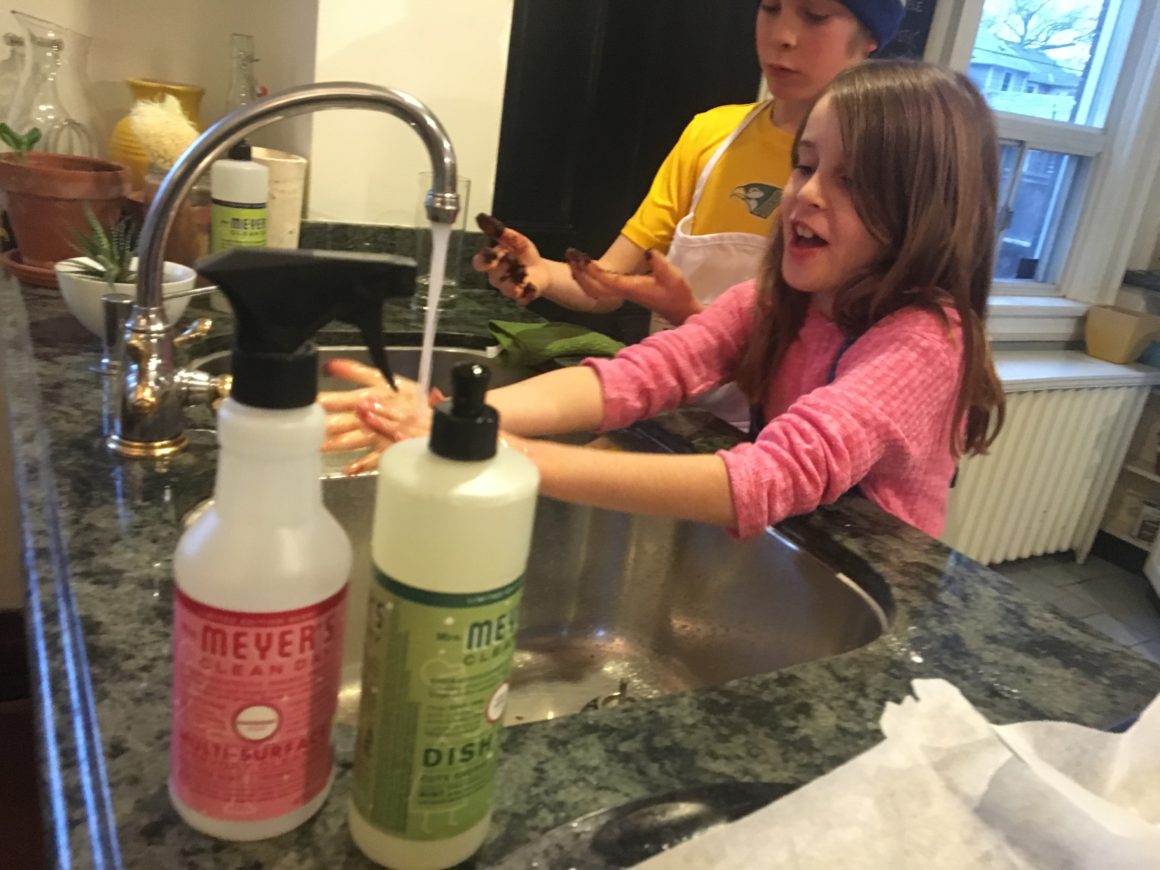 The cookies were supposed to be rolled just until lightly dusted in icing sugar…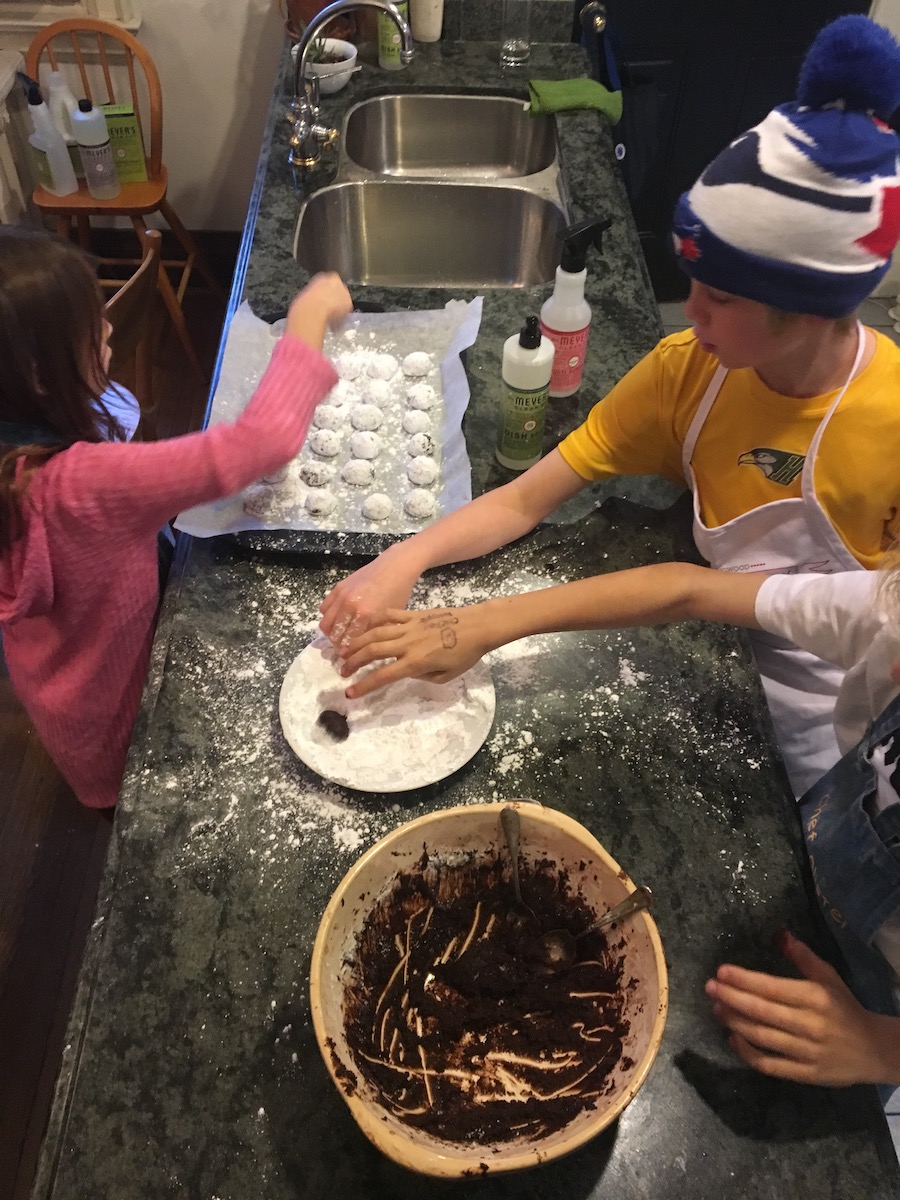 But there was rather a lot of enthusiasm for making it "snow" all over the cookies.
In fact, it turns out that icing sugar has properties that make it very intriguing to certain short people in my life, including watching it form clouds in the air while clapping one's hands together.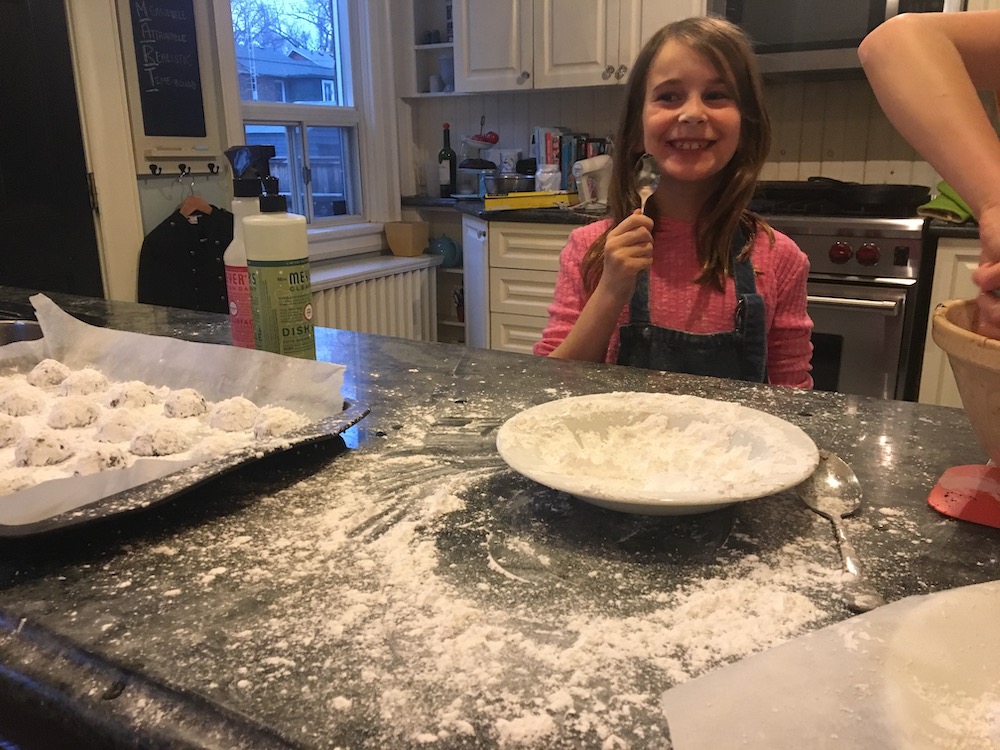 I won't name names, but I think you get the idea…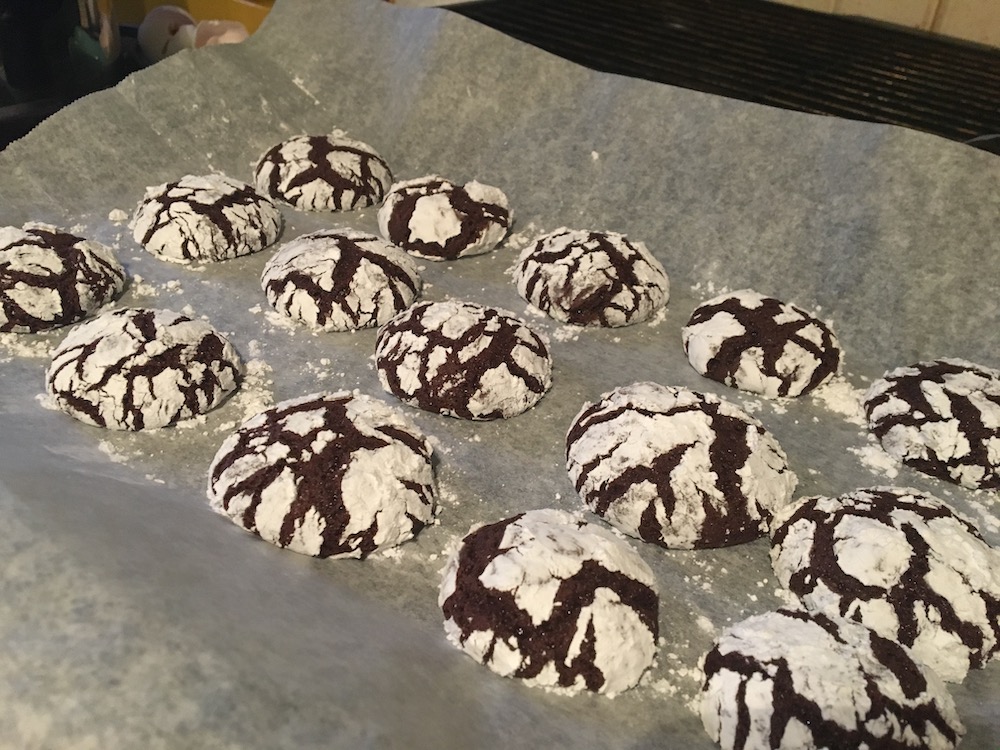 The good news is that the cookies turned out exactly as we'd remembered from previous years, with a pleasing look of dark chocolate batter contrasting against the white icing sugar coating, and a decadent, chewy texture.
One of my mistakes, though, was in failing to double this recipe. With four kids in the mix now instead of two, that was a seriously amateur move. More on that in a moment.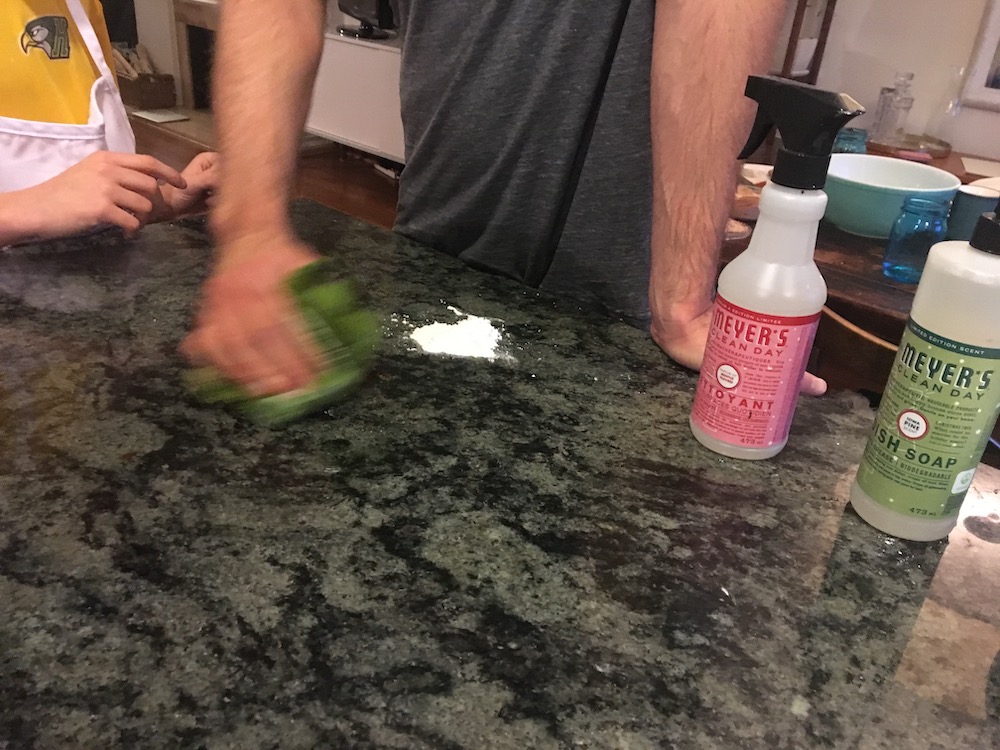 Using the Peppermint Scent Multi-Surface Everyday Cleaner, we cleaned the worst of the mess from the kitchen counter and got the dishes into a sink of pine-scented soapy water, thanks to the Mrs. Meyer's dish soap. I've been using various Mrs. Meyer's dish soaps for years because of their plant-derived ingredients, excellent cleaning properties and aromatherapeutic scents. After a chaotic afternoon of baking and containing the production of icing sugar clouds, I needed all the aromatherapy I could get.
Plus, we still needed to have some energy for the evening ahead, which was going to entail GOING. OUT. OF. THE. HOUSE. PAST. BEDTIME.
So, after everyone had eaten their takeout pizza and sampled the cookies, including coming up with out-of-the-box gourmet presentations such as this…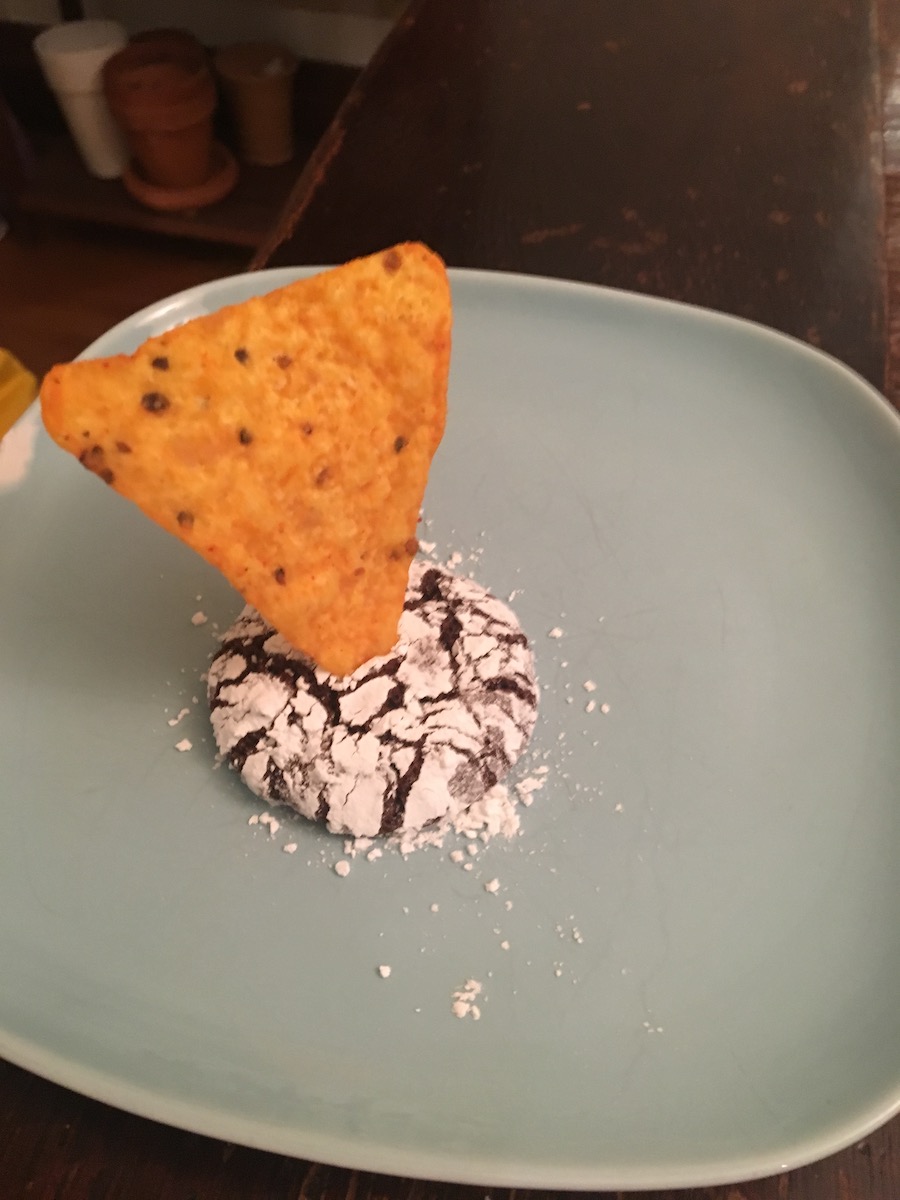 …we pointed our young glitter enthusiast in the direction of the supplies I'd picked up at the dollar store earlier in the day, and snuck away for a brief nap.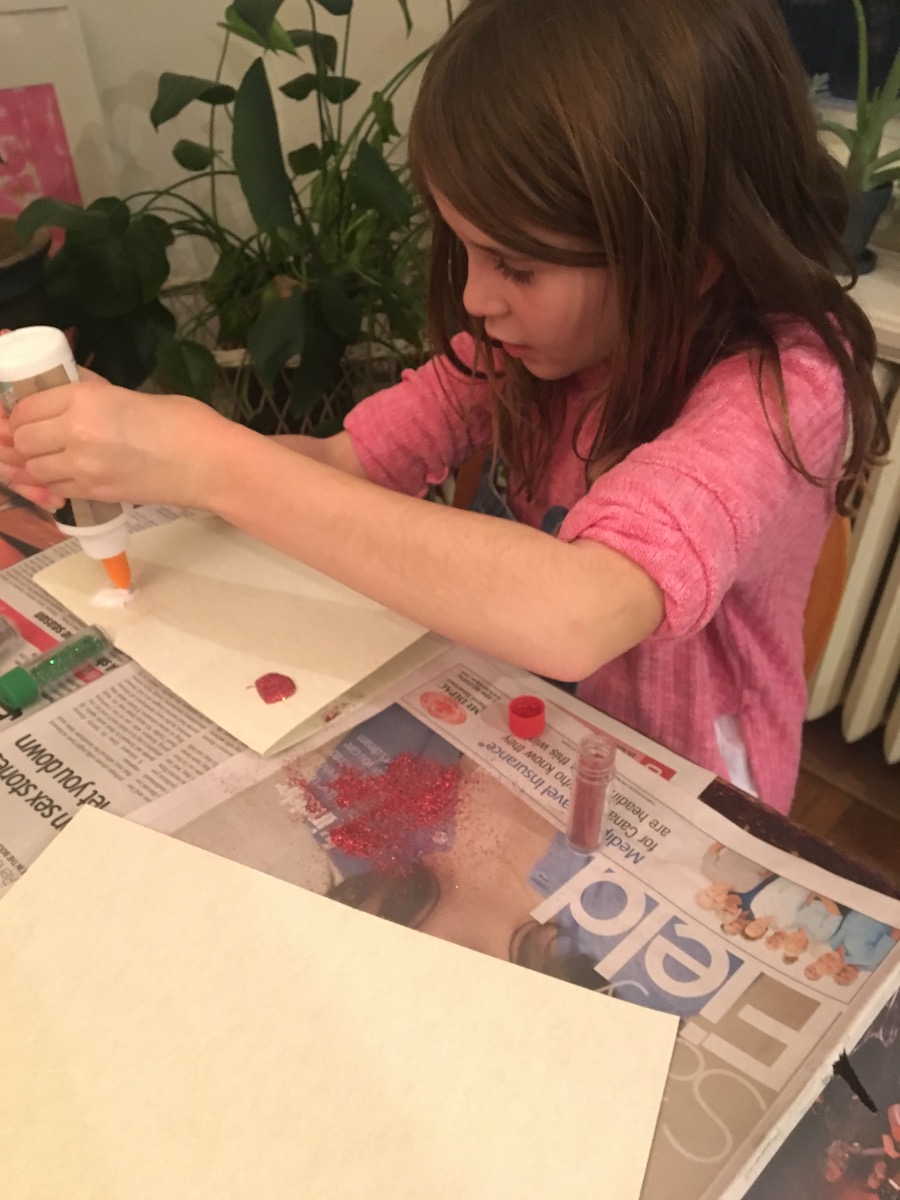 But during the time we were upstairs, the eldest came home hungry from basketball and quickly polished off a bunch of pizza and half a tray of cookies. The littlest efficiently packed most of the rest into one of the festive take-away boxes, leaving just a few forlorn cookies remaining — not enough to package up as hostess gifts or even really to last until the next day.
Which brings me to my second strategic error of the day: glitter. I'd purchased it in the hope of embellishing some sweet little note cards to accompany our cookie gifts, having made a leap of faith that I'd be able to keep the glitter mess contained. But, despite my best efforts to put newspaper down for this crafting operation prior to said nap, there was a surprising amount of glitter shellacked to the top of the dining room table and scattered all over the floor. Luckily, we were able to get it wiped off the table with the surface cleaner and a bit of elbow grease. The glitter on the floor, though, has made its way around the place travelling on our socks and even on our scalps, apparently.
I'll admit to being a bit under-experienced in this area. My friends who have daughters seem more versed in managing things like glitter crafts and slime production. (Of course, any kid can enjoy crafts, it just happens that my boys prefer sports these days.) I'm new to having a little girl who likes crafts in my life, and it's delightful. On this busy Saturday I just wanted glitter to buy her dad and I a cozy nap/escape from the chaos.
But look what else came out of her time alone with craft supplies intended for cute packaging of baked goods: A clever made-up game using numbered grab bags and a corresponding set of numbered slips of paper that players can randomly draw to select a prize.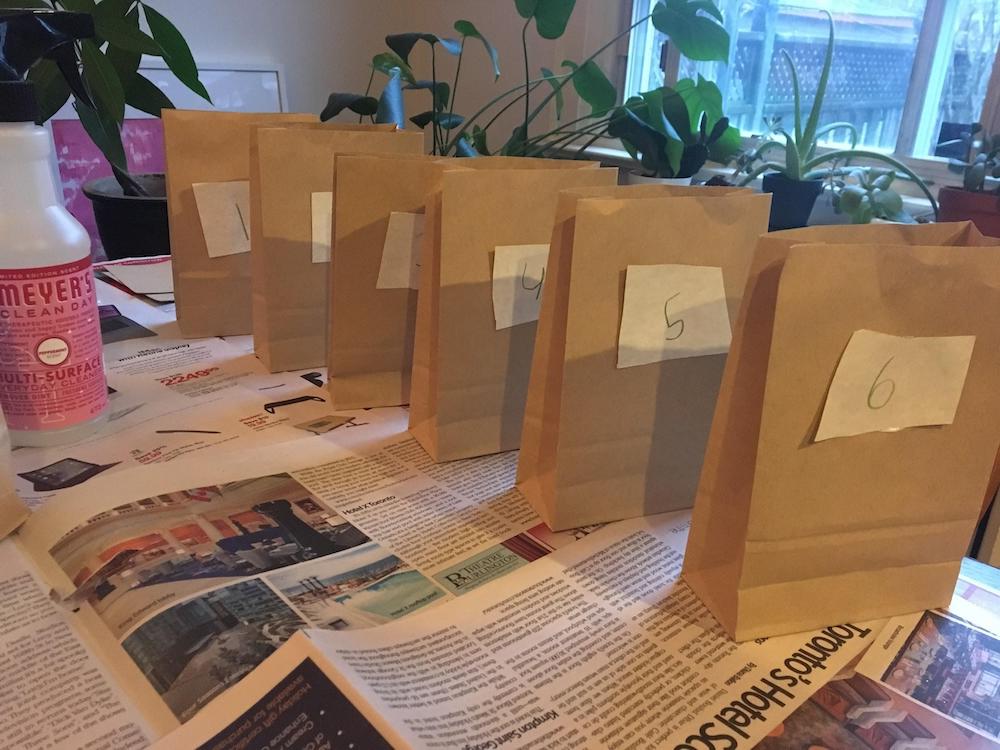 Numeracy and creativity.
Who knows. I may still get around to making another batch of these cookies, and perhaps a few of them will make it into one of the unused take out containers or little brown paper bags.
One thing's for sure, though. I think we'll be finding glitter from this December activity well into 2019.
If you'd like to be as well prepared for crafting and baking mess as we were with our selection of Mrs. Meyer's Clean Day products, enter below and you could win a prize pack (approx retail value: $75) of these great plant-derived cleaners that are gentle on the earth, your home and the people in it. I jumped at a chance to do this giveaway because I'm such a fan of the brand for its hard-working products that smell so good it makes things like doing the dishes or cleaning up a craft mess a whole lot more pleasant. Contest closes December 19th.
The post 'Glitter is cancelled' and other observations on the messy business of blended family fun appeared first on The New Family.
Enter our giveaway to win a prize pack of Mrs. Meyer's Clean Day products that are gentle on your home but hard on mess "OH MY GOD," my 15-year-old son shouted from the bathroom. "What wrong?" I called out from bed, where I'd retreated with a book, exhausted from the weekend's events. "How do I…
The post 'Glitter is cancelled' and other observations on the messy business of blended family fun appeared first on The New Family. […]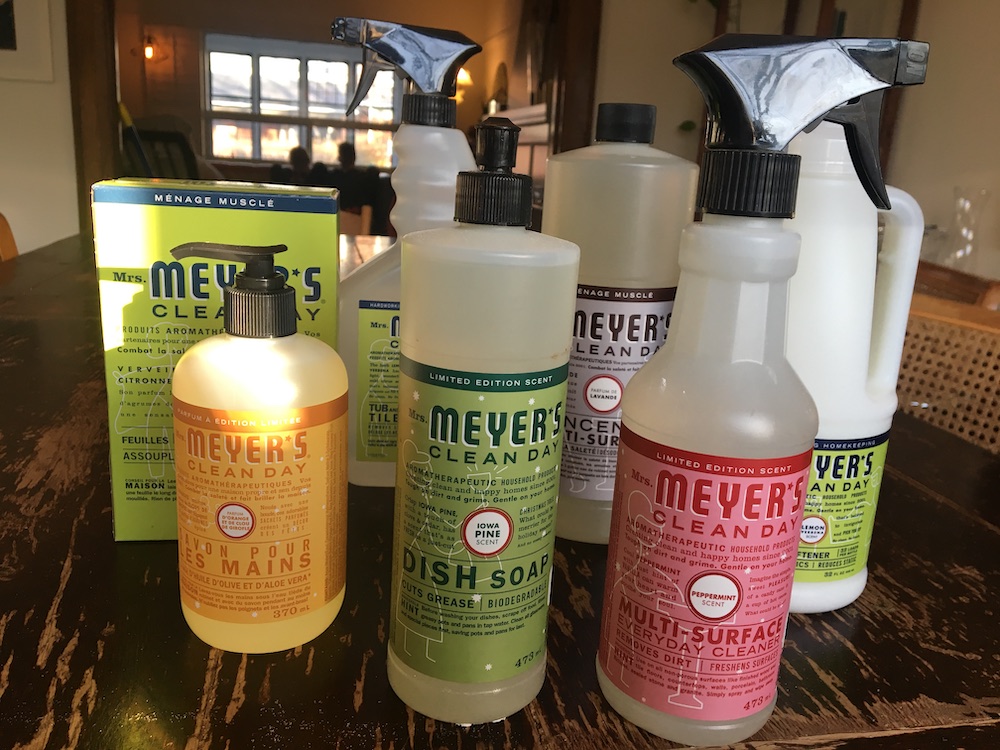 Read More